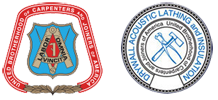 Carpenters Local 785
The Carpenters' District Council of Ontario is an organization that represents over 25,000 people across the province. Our united efforts have achieved the highest standards in negotiated wages, benefits, pensions, working conditions and other contract terms.
Our work consists of many trades that fall under the jurisdiction of the Carpenters' District Council of Ontario. These include:
-Carpenters
-Drywallers
-Resilient Floor Workers
-Shinglers
-Siders/Metalmen
-Trim Carpenters (High Rise and Low Rise)
-Caulkers
-Industrial Workers
-Servicemen
-Divers
We support these trades with training and apprenticeship programs in our various training facilities. Our programs help our members upgrade their skills and encourage new members to join the trade.