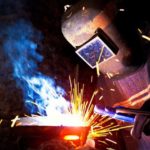 Are you interested in becoming an apprentice Boilermaker?
Depending on your province, you'll spend between four and five years (4,800 to 6,000 hours) learning the trade. 720 of those hours will be spent in a community college classroom and the rest on the job.
You'll get paid while you learn on the job. Once you graduate, you'll be a journeyperson Boilermaker, earning top wages (up to $55 per hour) and benefits, including Canada's best health and welfare plan and an industry-leading pension plan.
In college, you'll follow a national core curriculum, learning the standards of our trade that will let you move from province to province when you earn your journeyperson's Red Seal certificate.
From the early days of steamships and locomotives, our union has been a leader in apprenticeship training and skills upgrading for journeypersons. Once you've graduated, you can attend ongoing skills-upgrading courses at one of our local training centres from coast to coast. Our training courses cover all aspects of safety and trade-related subjects, such as welding, rigging and supervision.
find out more at https://128.boilermaker.ca/